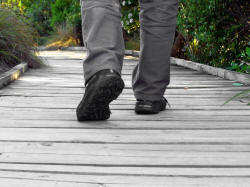 What is Walk and Talk therapy?
It is an effective alternative to indoor therapeutic sessions. The talk is still the same. The form is different.
Does Walk and Talk therapy have some scientifically proofed background?
Yes. There is ongoing research that supports the therapy happening outdoors. Several factors contribute to the final result in outdoor settings.
What experience do you have with the Walk and Talk approach?
For some years, I used Walk and Talk in coaching sessions. The results and feedbacks were always very positive. It was natural to use this approach for my therapeutic practice.
Is there some age limit?
Minimum 18 years of age (15-17 years old only after the agreement with legal guardian). There isn't any upper age restriction.
What do I need to take with me?
Come dressed comfortably. During wintertime, you should dress warm enough.
If we go for a longer walk, don't forget to take your medication (especially if you are allergic to pollens or stings or if you have asthma). In the summer take your water bottle. If it is going to rain, take a raincoat or an umbrella - or both.
I have a pet. Can it go with us?
Definitely.
What about the weather?
During a storm, hurricane, unbearable heat or arctic frosts, I may cancel the appointment or move it somewhere, where we will be safe. In case of rain or snowing, we can just enjoy it.
What are the benefits of Walk and Talk therapy?
We are used to the environment.
Aha moments come faster.
Nature has healing effect itself as well as walking.
Sitting positions create physiological stress for our body.
Many people prefer not to have a therapist in front of their eyes all the time.
The feeling of being overwhelmed by external forces vanishes faster.
It is easier to talk about difficult topics.
The outdoor environment stimulates more new ideas.
It is easier to connect to daily life.
Most of us don't have enough physical exercise. We can do at least something here.
Some clients report better sleep. It is very important as sleep is the process where our body and brain can literary repair.
In my case, as a former mountaineer, I feel better outdoors. I believe that my state of mind also contributes to the therapeutic process, thus it is beneficial to my clients.
What am I paying for? I can walk on my own...
Sure you can walk on your own and keep doing it regularly. However, our work is not about the walk. It is about therapy.
What fitness level should I have?
If you can walk, you are fit enough. You will determine the pace. I had a client, who needed to sit on the bench every 100 meters. That is OK with me.
I like to exercise. Can we go fast?
In that case, I will recommend finding a fitness trainer.
How long are the sessions?
The sessions last 50 or 90 minutes according to our agreement. However, you may have a reason for a shorter or much longer session. We should discuss that in advance.
Where can we meet?
In Prague at Smichov, Podoli or Hostivar. Outside of Prague, I prefer meeting close to Sazava town.
Do you offer couples therapy?
No, I don't.
I don't believe in traditional psychotherapy. Shall I believe at the Walk and Talk approach?
The walk and talk is still therapy as you may know it. The only difference is, that we are walking.
However, in psychotherapy, there are many approaches and even in one approach, you can hardly meet two therapists who would be the same... Try for yourself.
Still... I prefer to be indoors...
That is perfectly ok. The good news for you is, that the vast majority of therapists work indoors.
Are there some cases where you wouldn't recommend the Walk and Talk approach?
If you are contemplating suicide, if you have been part of the crime or an assault - please contact the crisis center (in Prague it is RIAPS phone: 222 586 768) or a psychiatric ambulance. If you think that your condition requires medication or hospitalization, don't wait and contact the right institution immediately.
The other limitation could be your physical condition or strong medication.
If I start therapy and I will get injured and I will be unable to walk, what then?
We will find a way how to continue the therapy.